Biography. Citations, CV and selected exhibitions
Simon Fletcher "I never cease observing landscape and finding the ineffable logic therein," says Simon Fletcher, the artist who has made the South of France the principal subject of his watercolours for the last thirty years. The stripes and cubes, whorls and dashes in his pictures, provide a uniquely satisfying and unorthodox structure to his works. Their colour - luminous, transparent sweeps of teal and aquamarine; violet, lavender and ochre - appears to have emanated directly from the Mediterranean landscape. This is the terrain that inspired Cezanne and Matisse. Like them, the flourishes of natural design in the frond of a fern or the spears of a cactus are relished by Fletcher whose paintings reflect the relentless order of Nature as well as its anomalies. Fletcher's latest works are drawn not only from the South of France but also from Morocco where the dry woodland and succulent cacti contrast with the limpid, turquoise sea, beyond. There are also views of the Orb Valley in the South of France with its hanging gardens at Roquebrun, a village beloved by the Romans. St Martin de l'Arcon in the Orb valley overlooking the confluence of the Jaur and Orb rivers is another subject and the picture of the blue tree was done at Cessenon in a very ancient winery, probably dating back to pre Roman times where the 'flow' of the landscape use can still be seen. "I'm a classicist and love the way the Romans were so site specific about their building," says Fletcher. "Pliny for instance gives a discourse on how villas should be sited on a gentle South Eastern facing slope with overhanging eaves to protect from the summer sun." It is the combination of classical precision and order and modern vibrancy and vigour that makes Fletcher's paintings so timeless and enduringly pleasurable to look at.
Catherine Milner 2013
Catherine Milner was, for more than ten years, the Arts Correspondent for the Sunday Telegraph and has written about contemporary art for a number of newspapers and magazines including the Financial Times, The Economist, Apollo Magazine and Art Review.
Simon Fletcher's Water-colours
Sir John Tusa July 2001.
Foreword to the book 'The Way of the moving Brush' Sponsored and published by Hitachi Corporation


It is more than ten years that my wife and I have lived with Simon
Fletcher's water colours. Living with involves looking at as well. Even
after that time they more than stand the test of looking, of enquiry, of
time itself. They have stood another important test for an owner as distinct
from a gallery curator - can they work in several different locations,
varying lights, surrounded by a wildly diverse assortment of companions?
Here too the verdict is affirmative.

Now, they could be good companions but they might still be only moderate
painting. I think they are a good deal more than that. If I make comparison
with other artists, it is not to suggest a derivative style but to evoke
likenesses that the reader will know. For instance, some of his landscapes
from a decade ago have the layered, outlined feel of Charles Rennie
Mackintosh, the colours revealing the bones of landscape and land in a
precise way. This gives the painting a strength of order and structure that
is quite unlike the conventional English water colour.

Then there are the colours, strong, vivid, bold, yes, Turneresque in their
readiness to go to the extremes of the palette. This tendency has grown with
time and his stay on the continent and visits to Japan seem to have
reinforced a confidence in his reaction to strong colours.

If he applies them with equal assurance in bold atmospheric washes as well
as in very precise representations, notably in paintings that blend the
specific with the atmospheric, this shows the range of approaches that Simon
Fletcher has in his possession. Is it English, in the sense that we use the
term, "English water colour"? Hardly. Is it European? Not obviously. Is
it personal and real? Without a doubt.


Sir John Tusa,
Managing Director,
Barbican Art Center, London.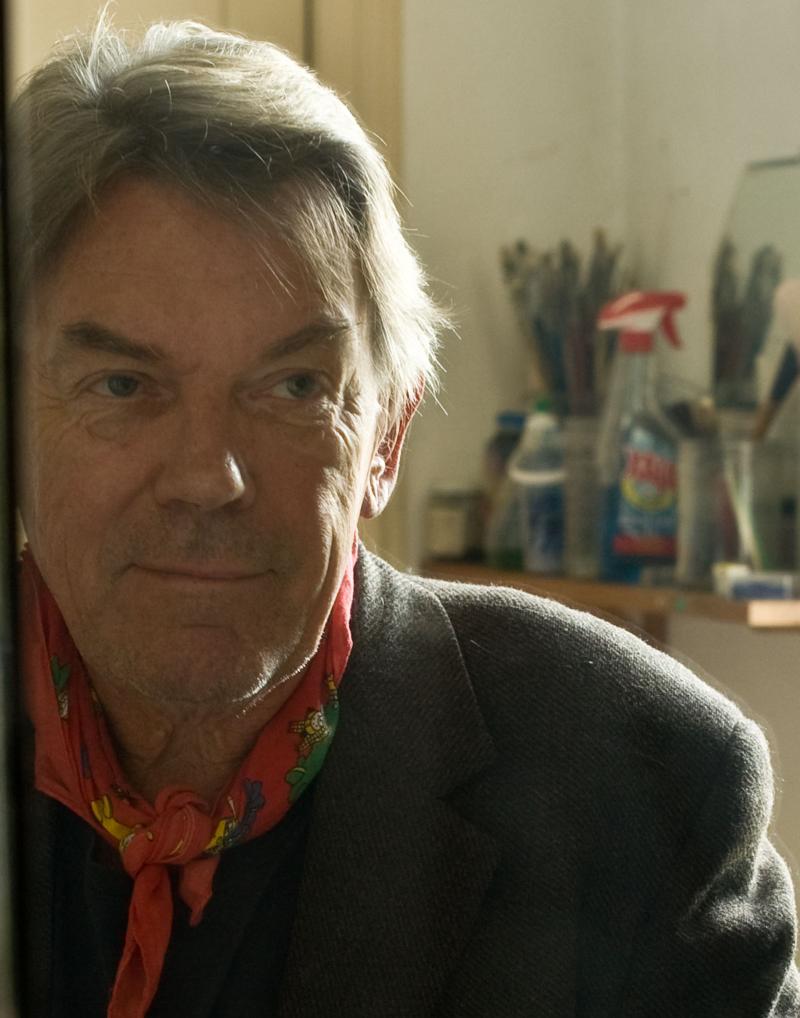 Curriculum Vitae
SIMON FLETCHER, BA. BIOGRAPHY. Born Birmingham, England.
1967/1975 BA in fine art after studies at St Albans and Watford art schools and University for the Creative arts, Farnham. Tutors include Morris Field, drawing; RaymondMoore, photography; Gerald Woods, Dieter Roth, printmaking; Alan Kitching, typography; David Hockney, Francis Bacon, painting;
Studies landscape design with Peter Coates and John Brookes and becomes artistic director for Gardenesque Landscape Design Company. 1975/1982 Travels in Europe and Africa working and exhibiting. For two years director of the Oxford Printmakers Co-operative. 1982 Moves to Southern France with his family to live and work
PRIZES 1980 1st prize, British Landscape Awards, for a private garden in Hampshire. 1983 Diplome d'Honneur, Salon d'Agde, France. 1983 1st prize for water colour, Mouvement Artistique Française. 1985 Bronze medal, Salon International de Bedarieux, France. 2000 Gold medal for water colour, Salon Internationale de Beziers, France
SPONSORS
1997 Deutsche Telecom, sponsored exhibition, Munich. 2000 Commune of Ravello, Italy, works on paper, one man show. 2000 Hitachi International, sponsored exhibition & book ' The Way of the Moving Brush'. 2000 Osram, Munchen. Recent paintings 2001 Musee d'Art Contemporain, Beziers, retrospective exhibition. 2003 Museum Service of Siena, Italy, paintings of Italy, with catalogue. 2003 British Embassy, Oman, recent works. 2004 The Economist, Frankfurt, exhibition of recent work. 2006 James Rothschild, St James Place, sponsored exhibition.
COLLECTIONS
Simon Fletcher's work is to be found in numerous private collections in Europe and America and in the following public collections: Oxford University. Bibliotheque Nationale, Paris. Warburg Merchant Bank, London. Foundation Pro Castellione, Suisse. März, Germany. Hitachi Corporation, Germany. Kunst & Kultur, Aschau, Munich. Siemens Germany. The Economist Frankfurt. H R H The Sultan of Oman. Collection of H R H Zayed Al Nahyan, Abu Dhabi.
Simon Fletcher is currently working on a series of large decorative panels for a retirement home in France .
He has exhibited in galleries and museums all over the world and is a committed European. His work can be viewed at his Atelier Gallery, F-34610, St Gervais, France. By appointment +33 623921960.
Selected exhibitions.
1976 - 1980 Aberbach Fine Art, London
1980 & 1981 NationalPortrait Gallery, London BP Portrait Awards
1983 - 2000 Various German Art Fairs with Gallery Richard Hartmann, Munich and Galerie N Blaeser, Dusseldorf.
1995 - 2006 Kunst & Kultur, Aschau, Munich with G Salzmann, R Fetting, B Vogel, K Fussmann etc
2004 Bohun Gallery, Henley with David Remfry, Allan Jones, Peter Blake, Bill Jacklin
2008 Anima, London. Group exhibition with Peter Blake, Louise Bourgeois, Damien Hirst
2016 Salerno, Italy. Museum of Modern Art.Simon Fletcher, Spirtual Landscapes Retrospective Exhibition of paintings from the Ravello Archive of Contemporary Art. Catalogue 102 pages, 69 illustrations in colour, full biography and foreword by Masimo Bignardi, Universities of Salerno and Urbino. Texts by Pasquale Ruocco and Luca Mansueto. ISBN 978-88-7554-103-3.
2017 Messums Wiltshire, A Wessex Scene. 2 December until 8 February 2018. Mixed exhibition including works by John Piper, J Craxton, David Inshaw, Norman Ackroyd, etc
A full list of exhibitions, articles and publications is available on request. Simon Fletcher regularly holds seminars in drawing, pastel and watercolour.
The painter's works are published as reproductions and cards by Bridgeman, London.