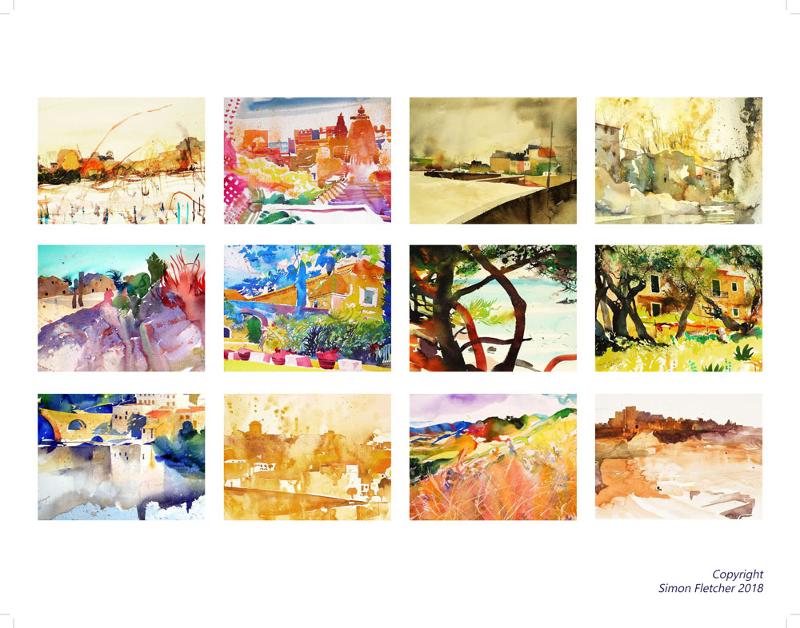 Calendar 2019
Above are the paintings for our new calendar available to order now
Twelve images printed on 160gm satin paper, white spiral binding, 25€ +post
Welcome to my website

.
Click on the menu bar at top for paintings, books, biography & more
Cliquez sur en tete pour peintures, ateliers, livres
NB PROCHAINEMENT A CHÄTEAU DE LUNAS POUR UN PETIT DISCOURS 16 AOUT à 1830h
NEXT SHORT TALK ABOUT MY WORK IS AT CHATEU DE LUNAS ON 16TH AUGUST AT 1830H
SUMMER 2018
If you're in southern France this summer below are some events that may be of interest. Above is first taster for our new 2019 calendar. On sale soon
Les petits discours de Simon Fletcher, Château de Lunas
No 2 jeudi 16 août à 1800h

second talk Thursday 16th August at 6pm
Simon Fletcher will be giving a 'petit discourse' about his work at Chateau de Lunas in the Herault near Lodeve. He will be talking about fifty years of travel, designing gardens and garden artefacts in England and Europe, working with Nicholas Pope on monumental woodcuts, painting in Japan, Oman, Dubai, Ravello Italy (where he represented the UK at the prime minister's conference) and teaching woodcut at Oxford Printmakers workshop in the 70's. Side issues like dancing in David Medalla's Exploding Galaxy at UFO, helping Mark Boyle invent the light show and printing a poster with Alan Kitching might also be briefly referred to. Wine and gourmet food (reserve please) 0033 4 67 23 87 99 www.restaurantchateaudelunas.com

Simon Fletcher donnera un «petit discours» sur son travail au Château de Lunas dans l'Hérault près de Lodeve. Il parlera de cinquante ans de voyage, dessinant des jardins et des objets de jardin en Angleterre et en Europe, travaillant avec Nicholas Pope sur des gravures sur bois monumentales, peignant au Japon, Oman, Dubaï, Ravello Italie (où il représentait le Royaume-Uni à la conférence du Premier ministre) et enseignant la gravure sur bois à l'atelier Oxford Printmakers dans les années 70. sujets secondaires comme danser dans l'Exploding Galaxy de David Medalla à l'UFO, aider Mark Boyle à inventer le lightshow et imprimer une affiche avec Alan Kitching pourraient aussi être brièvement mentionnés. Vin et gastronomie (réserver s'il vous plait) 0033 4 67 23 87 99 www.restaurantchateaudelunas.com



Personnages, voyages, pays, art et gens people, countries, art and travel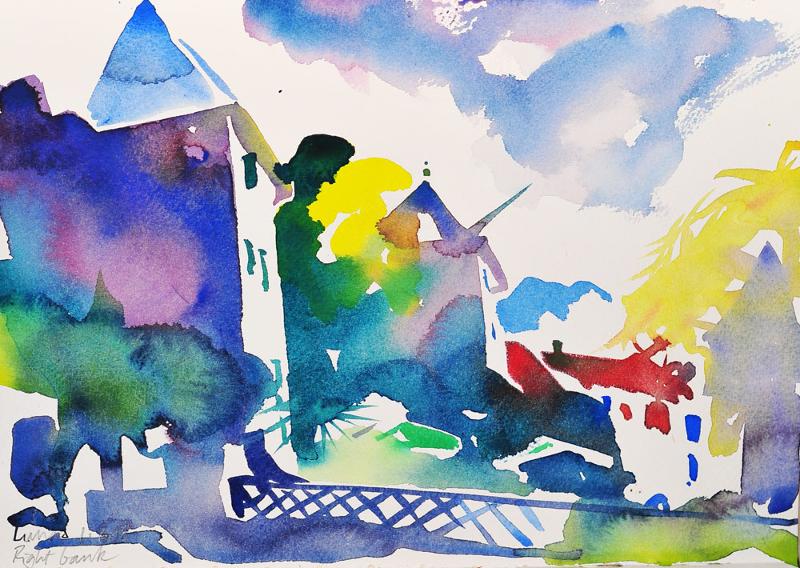 New paintings from spring 2018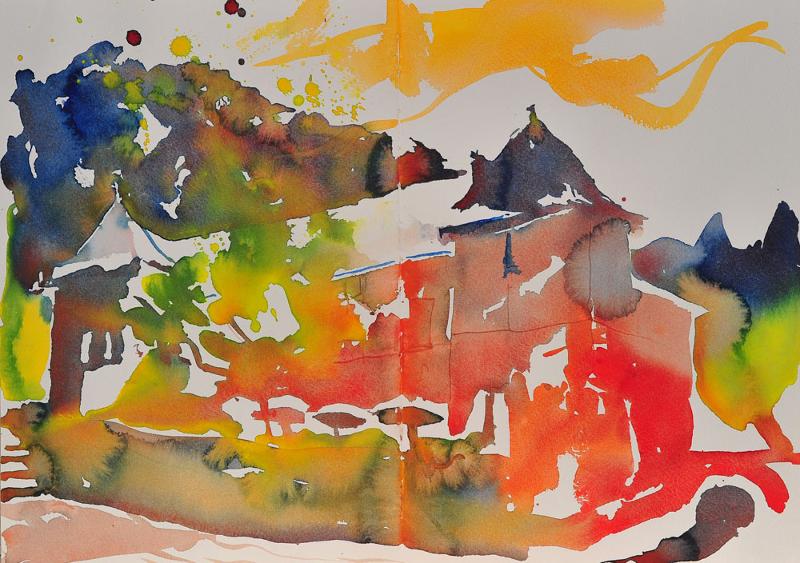 Pieter et Catherine Burgers qui ont créé de Château de Lunas un lieu célèbre dans la région nord de Montpellier et Béziers, continuent leur tradition de montrer l'art contemporain dans leur espace d'exposition avec une sélection de 45 des œuvres de Simon Fletcher datant des années 1980. Pieter et son frère, qui possède une galerie dans la Provence, partagent un intérêt dans la peinture contemporaine

From now until October Pieter & Catherine Burgers are showing 45 works at their beautiful Château de Lunas. A selection of work from my studio includes early etchings, drawings and oils as well as some recent watercolours. Some works are for sale.
Please email me for more information about this and visits to our small gallery in St Gervais sur Mare


New work will be on show at The Art Gallery17 from May this year.
www.theartgallery17.com
The new year is starting with some new projects: a group of painters coming to Morocco, an exhibition at the Château de Lunas and up coming workshops in France and England.
A program or workshops can be seen in the workshops section of this site
Below is one of the paintings shown at Messums Wiltshire, UK in December 2017. See also CV/exhibitions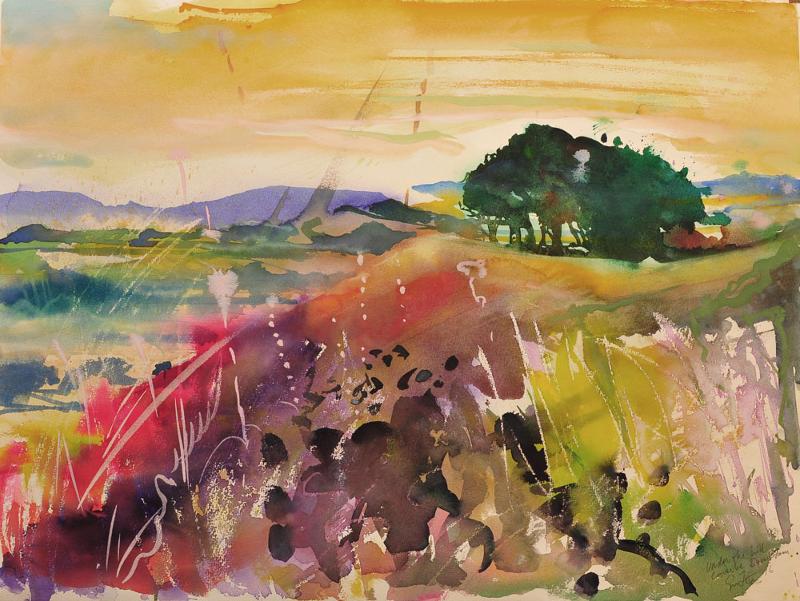 2019 calendar
New Calendar in preparation, see above taster
email simon.fletcher@free.fr
workshops in 2018
Please go to WORKSHOPS in the list above for workshop dates in 2018
Cliquez sur WORKSHOPS pour dates de mes ateliers en 2018
www.simonfletcher.org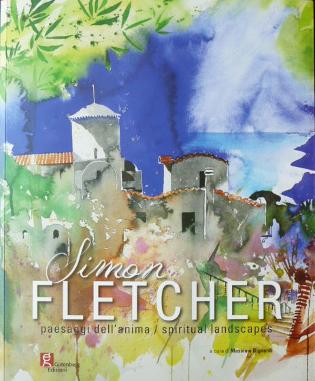 70 page catalogue for a retropective exhibition at the Mueum of Modern Art, Salerno, Italy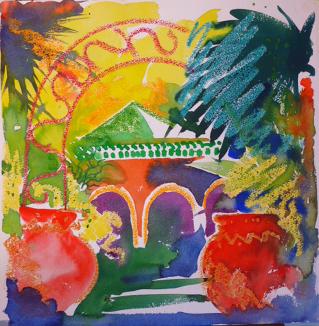 Pleasure Domes No1
one of a new series painted in my Moroccan studio.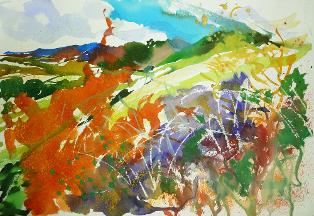 Pilsdon Pen. Painting in Dorset near Beaminster, what a pleasure to be in this landscape!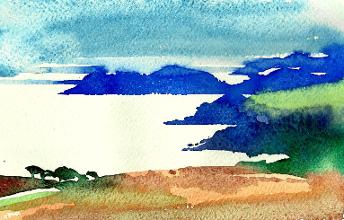 The coast near Collioure.
La Cote Vermeille pres de Collioure,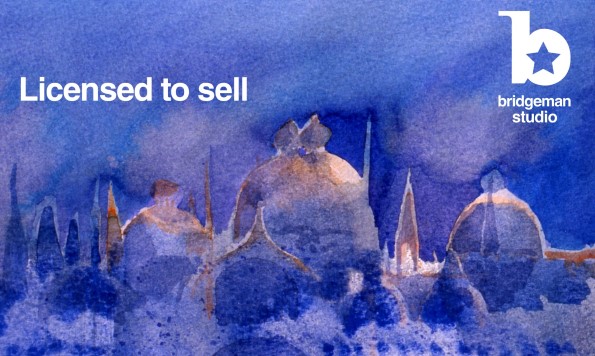 Best selling artist on Bridgeman London
http://bridgeman-images.com/23OM-4ZP6K-52HD44LZ61/cr.aspx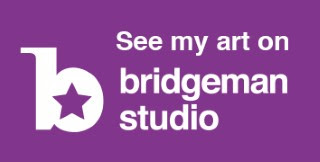 This is what the well known journalist and writer David Shirreff wrote about the mural project which can be viewed at Château Camplazens, La Clape, Narbonne www.camplazens.com.
Getting inside the painter's mind
Simon Fletcher is one of the best watercolour painters around. He has spent over 30 years refining his technique, which is a mile away from the British tradition, and closer to that of the Austrian and German expressionists, such as Emil Nolde, Oscar Kokoschka and Karl Schmitt-Rottluff.
When asked, out of the blue, two years ago to produce a mural covering 50 square metres of a wine estate building in southern France, Simon saw it as the opportunity of a lifetime to explore and explode the essence of the watercolourist's art– literally by blowing up his work.
This is not as easy as it sounds. The essence of watercolour is the transparency of many pigments and the whiteness of the paper illuminating the image from inside. Blowing up a watercolour using traditional enlargement methods tends to reduce the illumination to an insipid greyness.
But with graphic techniques applied by his son Gerry, who works as a graphic designer at the BBC, the intensity of the paint stays the same regardless of the magnification. So the viewer is confronted, not by a sea of pixels, as in a Roy Lichtenstein classic, but by intense brushmarks and contrasts. It is if a giant hand using gallons of paint has been at work. You see the individual atoms of pigment mingled in organised fractal chaos.
For the first time, perhaps, the art of the watercolourist is revealed in amazing detail on the big screen.
Peter and Susan Close, who commissioned the work for Chateau Complazens, their winery near Narbonne, asked for an unusual mural. What they have ended up with is an extraordinary adventure into the possibilities that the digital age offers to watercolour.
The mural will be opened to the public on Saturday June 28th. There is a special press opening on Friday July 4th.
www.camplazens.com +33 (0) 468 453 889
www.simonfletcher.org +33 (0) 467 236 528 +33 (0) 623921960
David Shirreff, formerly with The Economist helped to organise an exhibition of my work sponsored by The Economist

Travel and work
For years now I've travelled to learn from other painters and places and have been lucky to know some of the truly great painters as well as having the huge pleasure of discovering new places and cultures.
I was invited to write my first book in 1994 and this gave me the opportunity of sharing my pleasure and excitement in some ground breaking painters as well as writing about the new and better paints that have become available over the past thirty years.
Since then I've gone on to write ten books mostly about my own work in watercolour and pastel. Some are still available and you can find a bibliography under the books heading with a short description of each book and how to order them.
"Surely one of the greatest living watercolour painters" R Muller Mehlis writing in The Munchener Mercure
"Simon Fletcher has reinvented pastel painting" Professor W Rupen, Sion, Switzerland