2023 Events.
1. 22nd to 25 May,2023. Four days of painting in Lamalou les Bains and the valley of the Orb.
Could this be the last organised painting seminar? I am increasingly fatigued by the days spent outside painting even with small groups so this could be the last one
2. A new Book Project.
Wines and Landscapes of the Herault, 2004, Tome 1 was a very popular publication, written by my friend Rupert Wright and with paintings of the 20 domaines by me.
Tome 2 in preparation now, will be about the wines of the Aude, that huge department of France with its excellent wines and magical, mysterious landscapes. Rupert will write the text and I will attempt to make some paintings that do some justice to this wonderful country.
3. September and October 2023.
An Exhibition of Prints. The splendid Bibliothéque de Pézenas will be showing 20 of my prints done over 40 years: etchings, woodcuts and aquatints will be on show. .
4. Through September until mid October 2023.
Forty Years, homage to a landscape. Paintings of Simon Fletcher, Espace de L'Art Contémporain, Bedarieux. , 40+ paintings; Pastels, Watercolours and Oil paintings. Landscapes still life and portraits.
5. 28th October 2023 until January 31st 2024
New works, L'Heure Bleue, Essaouira, Morocco
.............................................................................................................
Événements 2023.
1. 22 au 25 mai 2023. Quatre jours de peinture à Lamalou les Bains et la vallée de l'Orb.
Serait-ce le dernier séminaire de peinture organisé ? Je suis de plus en plus fatiguée par les journées passées à peindre dehors même avec des petits groupes donc ça pourrait être la dernière
2. Un nouveau projet de livre.
Vins et Paysages de l'Hérault, 2004, Tome 1 était une publication très populaire, écrite par mon ami Rupert Wright et avec des peintures des 20 domaines par moi.
Le Tome 2 en préparation actuellement, portera sur les vins de l'Aude, cet immense département de France avec ses excellents vins et ses paysages magiques et mystérieux. Rupert écrira le texte et j'essaierai de faire quelques peintures qui rendent justice à ce merveilleux pays.
3. Septembre et octobre 2023.
Une exposition d'estampes. La splendide Bibliothèque de Pézenas présentera 20 de mes estampes réalisées sur 40 ans : eaux-fortes, gravures sur bois et aquatintes seront exposées. .
4. De septembre à mi-octobre 2023.
Quarante ans,hommage d'un paysage. Peintures de Simon Fletcher, Espace de L'Art Contemporain, Bédarieux. , 40+ peintures ; Pastels, aquarelles et peintures à l'huile. Paysages natures mortes et portraits.
5. 28 octobre 2023 au 31 janvier 2024
Oeuvres nouvelles, L'Heure Bleue, Essaouira, Maroc


Pezenas Bibliotheque - septembre,octobre, Prints/Estampes
Bedarieux Espace d'art Contemporain -
septembre, octobre Peintures dessins
Essaouira, Morocco - peintures et dessins recentes,
novembre 2023 - fin janvier 2024
TheArtGallery17, St Gervais sur Mare, 34610. Sur RDV. Works on view and for sale
.
2023
workshop, May 22 - 25 France - NEW Itinerary now available, see WORKSHOPS
Full details in the workshop section of this site above
Regardez sur la rubrique Workshops en haut

Below are four of the prints on show this coming September in Pezenas
No1 from the suite of prints, Ravello 5
No2 Le Repos, colour woodcut
No3 Farm North Menorca, etching
No4 Woman in the mirror, woodcut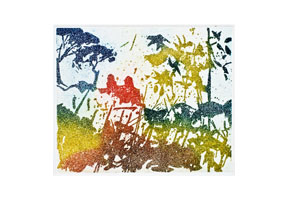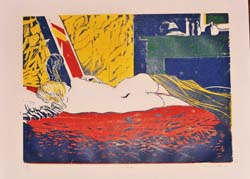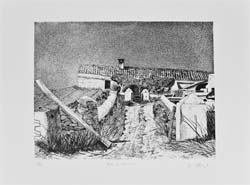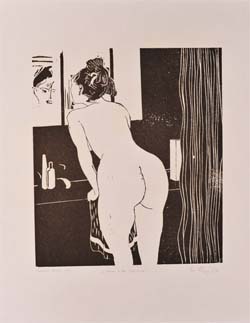 SIMON FLETCHER left school at eighteen and after passing the exam for the Royal Society of Chartered Surveyors decided to study Fine Art.
In 1971 he left the South of England University of the Arts with his Fine Art Diploma and, after a short period working for the Forestry Commission learning about trees, was employed as a landscape draftsman in Hampshire, England.


Here he honed his skills and produced designs for pottery and iron work in addition to drawing up plans and surveys for garden projects.


In 1975, living in Oxford with his wife and son, he formed Simon Fletcher Landscape Designers and continued to design while at the same time pursuing a career in Fine Art.
In 1980 he won the first prize for a garden scheme and had his self portrait accepted for inclusion in the BP Portrait award among 45 other entrants from a submission of over 600.


In 1982, he moved with his family to the Languedoc region of France and has since exhibited in Paris with Paul Feiler, In Germany and Austria with many well known painters, Salzman, Fussman, Fetting, and in Italy with the Sienese and Salerno Museum services
In particular the German tradition of painting has been a deep and lasting influence, and the experience of working in Italy over a longish period fascinating and rewarding, culminating in a retrospective exhibition at the MOMA in Salerno Italy in 2016




J R N
Ravello 5
A new suite of five prints of Ravello, Italy, in a limited edition of ten folios.
Each print is signed, titled and numbered including the folio number.

Printed on 29.7 x 42 cm Somerset radiant white satin cotton rag paper, acid free archive quality, the prints are made with UV resistant inks.
The folio costs 1500€ for the five prints and the folio itself is made from cotton rag 350gm paper>
Some of the works which inspired the series can be seen at the Ravello Museum in the Province of Salerno where many were made during the artist's frequent visits.
This offer is limited to ten folios only. To receive one please email Simon Fletcher at movingbrush@gmail.com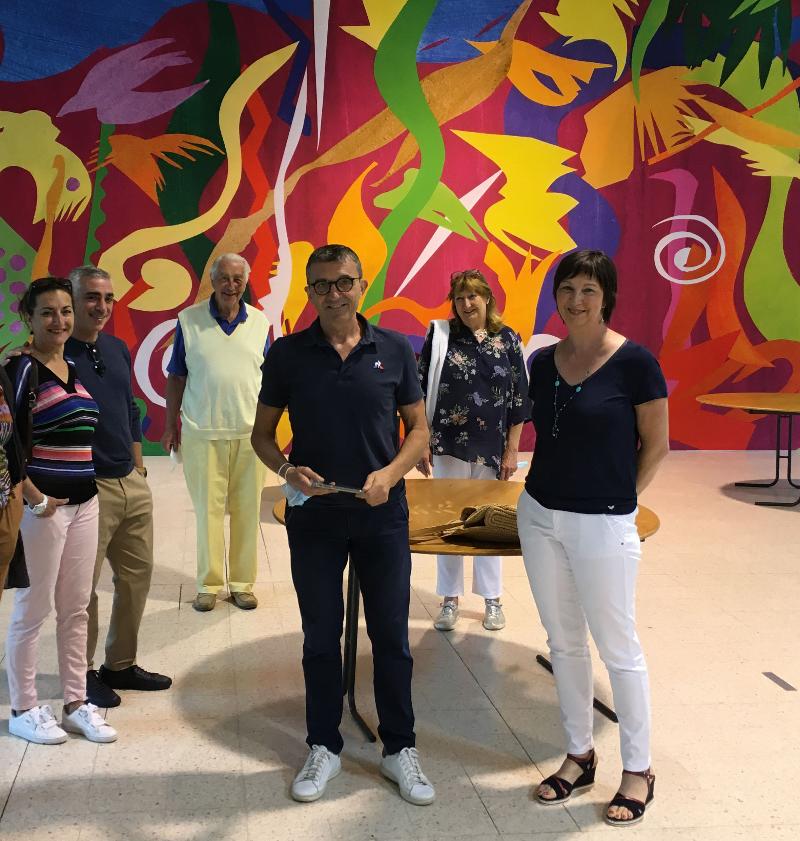 PRESENTATION the mural for the French Association for the Handicapped near Montpellier France. M P Causse and friends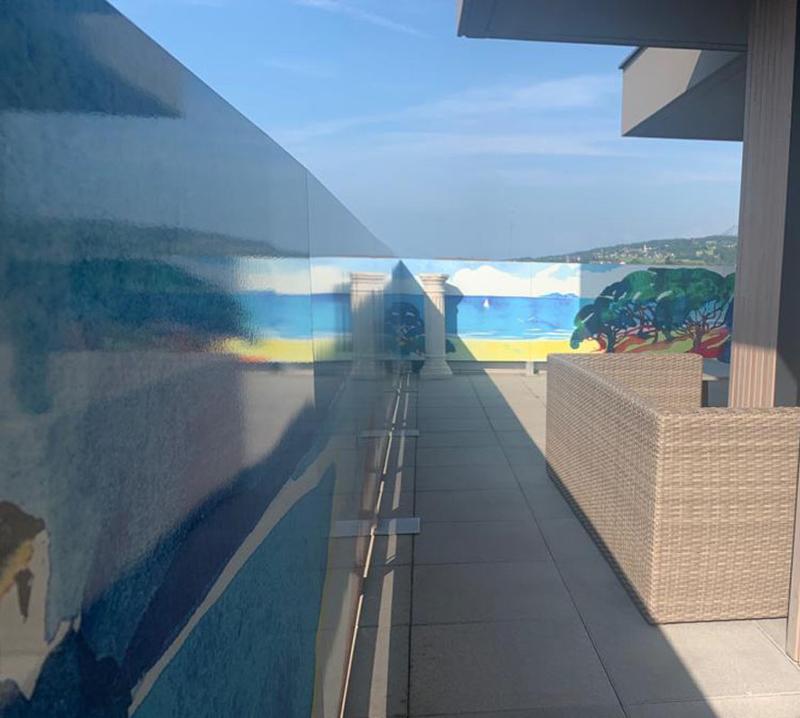 Balcony decoration for a private client near Geneva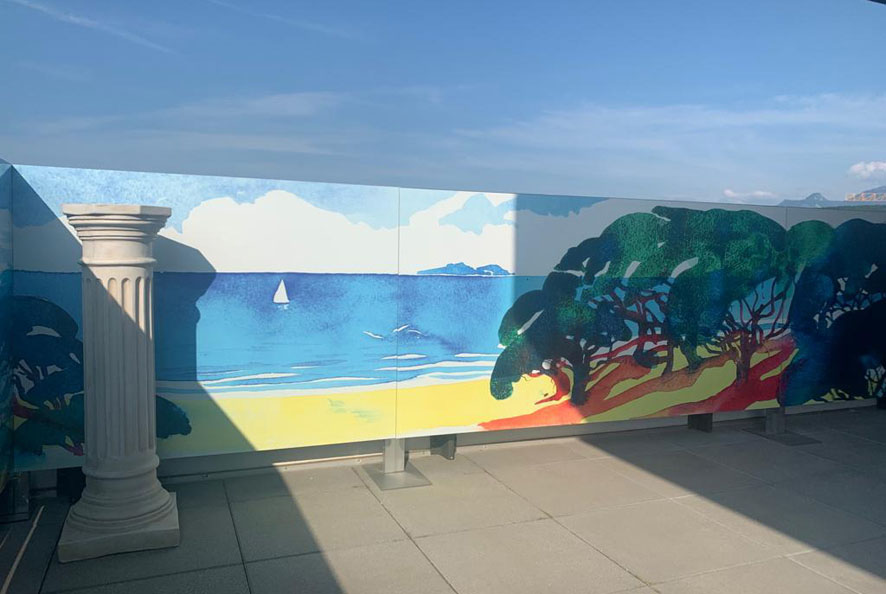 Balcony descoration 18x1.1 meters
The images are printed on dibond, aluminium sheets that are water and UV proof
My studio gallery is open for visitors by appointment
Atelier Galerie ouvert sur RDV
+33 623921960
Interview with the painter. https://youtu.be/SOey3zIFHe8



New testimonials SEE WORKSHOPS
IN PREPARATION NEW CALENDAR. PLEASE ORDER NOW!
IN VORBEREITUNG NEUER KALENDER. BITTE JETZT BESTELLEN!

EN PREPARATION NOUVEAU CALENDRIER. VEUILLEZ COMMANDER MAINTENANT !

2023 CALENDAR -35€ inc P+P
To order please mail pour commander veuillez email

movingbrush@gmail.com
Société Marseillaise de Credit, Rue St Alexandre, 34600 Bedarieux, France.
30077 - 04813 - 11114700300 - 75.
IBAN FR76 3007 7048 1311 1147 0030 075

SWIFT BIC SMCTFR2A connecting bic NORDFRPP



Kitchen splashback printed on washable, colour fast vinyl for a client in Geneva
Sea trees no2, mixed media, paper mounted on board 60x60cm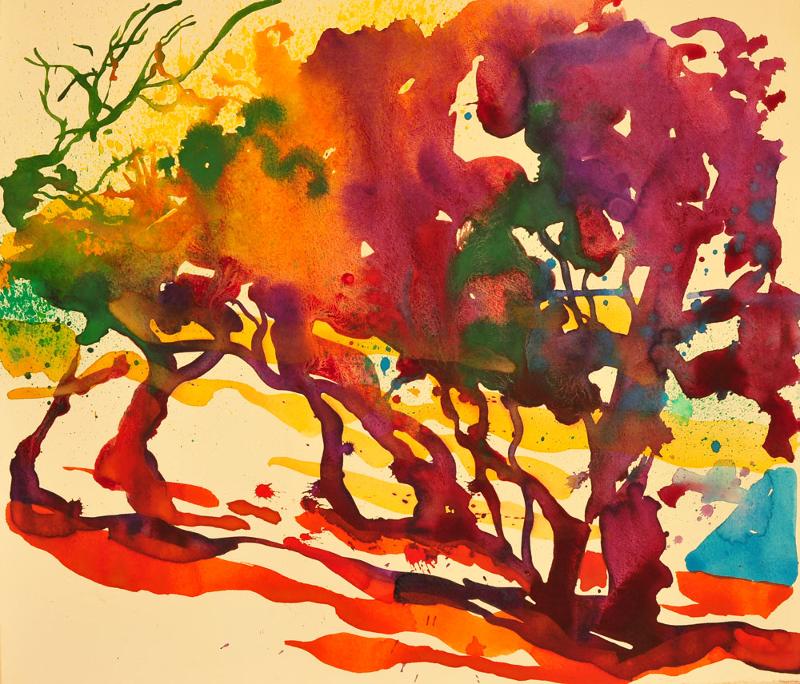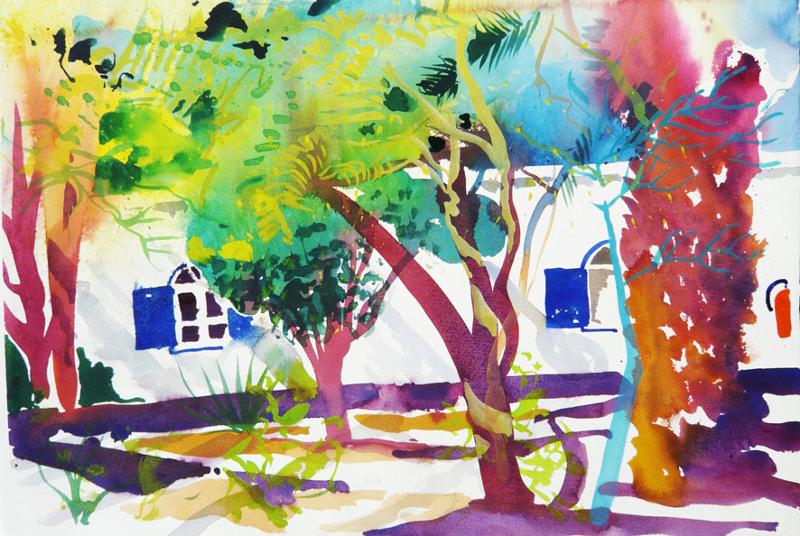 A permanent exhibition of work is on show at
The Art Gallery17 .
movingbrush@gmail.com
Please contact me if you wish to visit the gallery.
......................................................................................................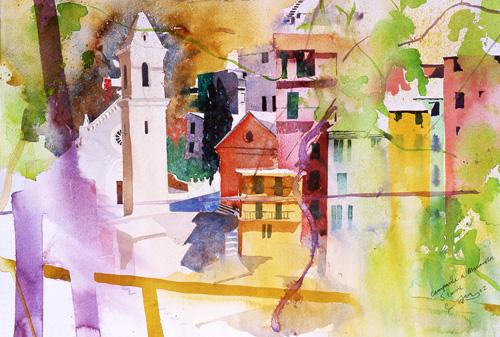 One of the Italian paintings from my 2020 calendar
70 page catalogue for a retropective exhibition at the Mueum of Modern Art, Salerno, Italy
As this catalogue is no longer available there is now a selection of paintings from the Ravello Contemporary Art Centre in the paintings section of the web site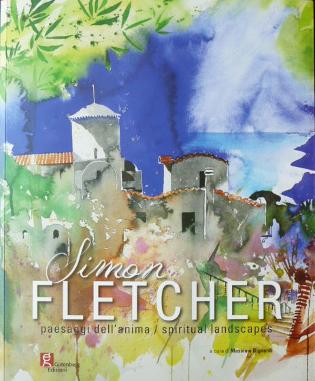 a new series painted in my Moroccan studio.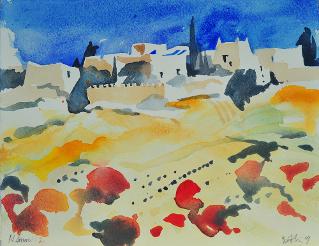 Morocco series 18x28.
each 650€ unframed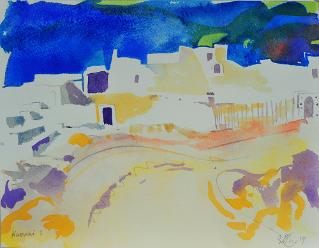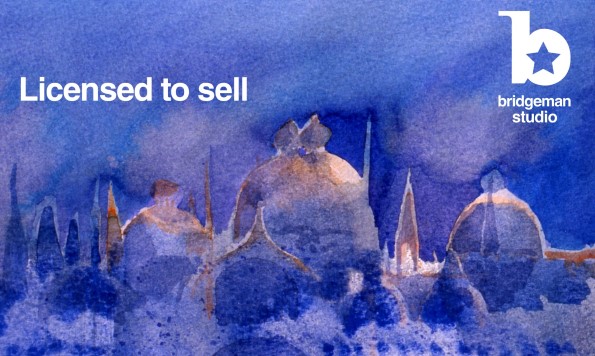 Best selling artist on Bridgeman London
http://bridgeman-images.com/23OM-4ZP6K-52HD44LZ61/cr.aspx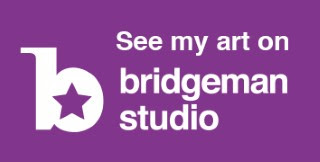 This is what the well known journalist and writer David Shirreff wrote about the mural project which can be viewed at Château Camplazens, La Clape, Narbonne www.camplazens.com.
Getting inside the painter's mind
Simon Fletcher is one of the best watercolour painters around. He has spent over 30 years refining his technique, which is a mile away from the British tradition, and closer to that of the Austrian and German expressionists, such as Emil Nolde, Oscar Kokoschka and Karl Schmitt-Rottluff.
When asked, out of the blue, two years ago to produce a mural covering 50 square metres of a wine estate building in southern France, Simon saw it as the opportunity of a lifetime to explore and explode the essence of the watercolourist's art– literally by blowing up his work.
This is not as easy as it sounds. The essence of watercolour is the transparency of many pigments and the whiteness of the paper illuminating the image from inside. Blowing up a watercolour using traditional enlargement methods tends to reduce the illumination to an insipid greyness.
But with graphic techniques applied by his son Gerry, who works as a graphic designer at the BBC, the intensity of the paint stays the same regardless of the magnification. So the viewer is confronted, not by a sea of pixels, as in a Roy Lichtenstein classic, but by intense brushmarks and contrasts. It is if a giant hand using gallons of paint has been at work. You see the individual atoms of pigment mingled in organised fractal chaos.
For the first time, perhaps, the art of the watercolourist is revealed in amazing detail on the big screen.
Peter and Susan Close, who commissioned the work for Chateau Complazens, their winery near Narbonne, asked for an unusual mural. What they have ended up with is an extraordinary adventure into the possibilities that the digital age offers to watercolour.
The mural will be opened to the public on Saturday June 28th. There is a special press opening on Friday July 4th.
www.camplazens.com +33 (0) 468 453 889
www.simonfletcher.org +33 (0) 467 236 528 +33 (0) 623921960
David Shirreff, formerly with The Economist helped to organise an exhibition of Simon's work sponsored by The Economist

Travel and work
For years now I've travelled to learn from other painters and places and have been lucky to know some of the truly great painters as well as having the huge pleasure of discovering new places and cultures.
I was invited to write my first book in 1994 and this gave me the opportunity of sharing my pleasure and excitement in some ground breaking painters as well as writing about the new and better paints that have become available over the past thirty years.
Since then I've gone on to write ten books mostly about my own work in watercolour and pastel. Some are still available and you can find a bibliography under the books heading with a short description of each book and how to order them.
"Surely one of the greatest living watercolour painters" R Muller Mehlis writing in The Munchener Mercure
"Simon Fletcher has reinvented pastel painting" Professor W Rupen, Sion, Switzerland