Welcome to my website

.
Click on the menu bar at top for paintings, books, biography & more
NEWS.
The month of November has already been busy with some new work, a painting of London's iconic new building The Shard, see gallery/pastels, and next month I have been invited to be BRIDGEMAN STUDIO Artist of the month with images and an interview -
http://www.bridgemanimages.com/
Workshops in 2016 are already filling up, two weeks painting in LANGUEDOC in the second half of May and four days painting in the fabulous German city of REGENSBURG in mid September
workshops in 2016
Please go to WORKSHOPS in the list above for workshop dates in 2016
Cliquez sur WORKSHOPS pour dates de mes ateliers en 2016
In the gallery you will find a selection of watercolours, drawings and pastels. Landscapes, still life, portraits and ceramics.
Voir ma GALLERY en cliquant au dessus, aquarelles, dessins, pastels, ceramics etc
NEW BOOK, PASTEL PRAXIS auf Deutsch jezt ereichbar! Schon 1500 buche verkauft in zwei monate!
GALERIE D'ART SOPHIE JULIEN.
A splendid new gallery in the heart of
Beziers. A small selection of recent
work is available to view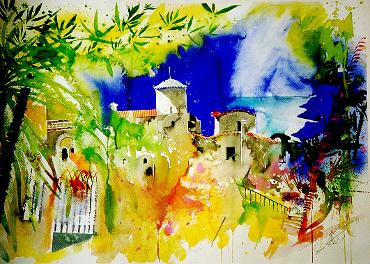 Churches in Ravello 70X100cm
Prints of many of my paintings either on paper or canvas can be obtained from
Bridgeman Images, London


Images are also available for reproduction
as calendars or illustrations
Artists prefix to view images at http://www.bridgemanimages.com/$FTC
Estampes sur papier ou toile disponible chez Bridgeman Paris . Images aussi pour cartes, calendriers ou illustrations
http://www.bridgemanimages.com/fr/$FTC
exposition permanente a la

Galerie d'art Sophie Julien, Beziers. Aquarelles, dessins et estampes de Simon Fletcher.
L'ORTENSIA, St Gervais sur Mare.
A Partir de 20 12 15 J'exposerais encore à L'Ortensia, deja reconnu par Michelin comme restaurant de qualité. Avec presentation des vins de La Croix Belle, parmis les meilleurs en Languedoc, ça vaut la viste!
From 20th December for two months I will be showing some new work in this fashionable Restaurant Gallery. Already chosen by Michelin as a new interesting restaurant, this is definitely worth a visit for the food and art and this year the famous Croix Belle are presenting their wines, amongst the best in the Languedoc!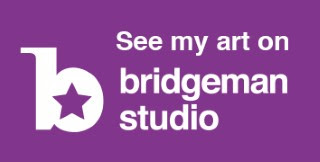 This what the well known journalist and writer David Shirreff wrote about the mural project which opens to the public on June 28th at Château Camplazens, La Clape, Narbonne www.camplazens.com.
Getting inside the painter's mind
Simon Fletcher is one of the best watercolour painters around. He has spent over 30 years refining his technique, which is a mile away from the British tradition, and closer to that of the Austrian and German expressionists, such as Emil Nolde, Oscar Kokoschka and Karl Schmitt-Rottluff.
When asked, out of the blue, two years ago to produce a mural covering 50 square metres of a wine estate building in southern France, Simon saw it as the opportunity of a lifetime to explore and explode the essence of the watercolourist's art– literally by blowing up his work.
This is not as easy as it sounds. The essence of watercolour is the transparency of many pigments and the whiteness of the paper illuminating the image from inside. Blowing up a watercolour using traditional enlargement methods tends to reduce the illumination to an insipid greyness.
But with graphic techniques applied by his son Gerry, who works as a graphic designer at the BBC, the intensity of the paint stays the same regardless of the magnification. So the viewer is confronted, not by a sea of pixels, as in a Roy Lichtenstein classic, but by intense brushmarks and contrasts. It is if a giant hand using gallons of paint has been at work. You see the individual atoms of pigment mingled in organised fractal chaos.
For the first time, perhaps, the art of the watercolourist is revealed in amazing detail on the big screen.
Peter and Susan Close, who commissioned the work for Chateau Complazens, their winery near Narbonne, asked for an unusual mural. What they have ended up with is an extraordinary adventure into the possibilities that the digital age offers to watercolour.
The mural will be opened to the public on Saturday June 28th. There is a special press opening on Friday July 4th.
www.camplazens.com +33 (0) 468 453 889
www.simonfletcher.org +33 (0) 467 236 528 +33 (0) 623921960
David Shirreff, formerly with The Economist helped to organise an exhibition of my work sponsored by The Economist

Travel and work
For years now I've travelled to learn from other painters and places and have been lucky to know some of the truly great painters as well as having the huge pleasure of discovering new places and cultures.
I was invited to write my first book in 1994 and this gave me the opportunity of sharing my pleasure and excitement in some ground breaking painters as well as writing about the new and better paints that have become available over the past thirty years.
Since then I've gone on to write ten books mostly about my own work in watercolour and pastel. Some are still available and you can find a bibliography under the books heading with a short description of each book and how to order them.
"Surely one of the greatest living watercolour painters" R Muller Mehlis writing in The Munchener Mercure
"Simon Fletcher has reinvented pastel painting" Professor W Rupen, Sion, Switzerland